Hi, new to the forum, only came across it while doing a google search on the little watson power mite nf as a few members here have posted they have got one.
I had a problem with mine after about 18 months, the fan started being very noisy and sticking so the heat sensor burnt out, that is all repaired now and working with a bigger silent fan on top, PROBLEM! on rebuild I noticed two different spade end male connectors for the common - rear binding post (black terminal internal connection) one is marked (GND-) on the board and the other is marked (BC GND-) on the board and I cant for the life of me remember which connection to use? they both have marks on as if they have been used in the past and they both work with the 12v lamp I have been using as a current draw for testing. They are not linked directly via the circuitry so I am not willing to connect a transceiver untill I am sure of the correct one to use, not being able to fathom out switch mode supplies thought I would ask for help!
Any takers?
regards
Phil
26WF183 73s

26WF183

New Member





Location

: Northumberland


Registration date

: 2010-04-15


Number of posts

: 10


Points

: 18


Reputation

: 0



What no replies yet! somebody must have one they can take a little peek into, I even think its possible to look through the RH side case vents and see which PCB GRD terminal the black - lead goes to, go on be a devil and put me out of my missery, Ive got a new toy waiting that needs lots of amps.
please help as the main big name suppliers wont (as usual grrr)
Phil

26WF183

New Member





Location

: Northumberland


Registration date

: 2010-04-15


Number of posts

: 10


Points

: 18


Reputation

: 0




_________________
You Can Get Further With A Kind Word and a Linear - than you can with just a kind word.
Old radio nuts never die, they just fade into the noise.
Best 73's means Best best wishes's.
If I remember later I'll take a look and take a photo for u. I have one somewhere :-). Lovely little power supply.

2W0PWR

Admin





Call Sign

: 2W0PWR


Other Call Signs

: MW3VSG, M3VSG


Locator

: IO83KD


DXCC Entity

: Wales


VHF / UHF Rig

: Yaesu FT-7900 Motorola DM4600 DMR


HandHeld

: Wouxun / Motorola DP-3400


Preferred Bands

: 80 / 20 / VHF / UHF / D-Star / DMR


Special Event Calls

: GB2RFS


Location

: North Wales


Registration date

: 2007-10-03


Number of posts

: 1225


Points

: 741


Reputation

: 57



Cheers, easy to see directly behind black binding post are 3 male spade connectors on the board, first one nearest the back of the black BP is the + (got that one as no other choice) second terminal (about 1cm behind) right next to it in perfect line is the one marked GND- then a little further into the board from the + terminal (about 2cm) slightly offset from the other two and near the heatsink footing is the one marked BC GND-, if you can see which GND is used for the back wire that will be great.
thanks again
Phil.

26WF183

New Member





Location

: Northumberland


Registration date

: 2010-04-15


Number of posts

: 10


Points

: 18


Reputation

: 0



Hi Phil the email has been sent, I'm sorry for the delay.
Hi Phil,
Sorry for the long delay. I have just opened the thing up and put the meter in. The black wire goes to the GND and nothing goes to the BC GND spade. I have taken some photos but my camera is not the best.
What's wrong with it? Is it not working?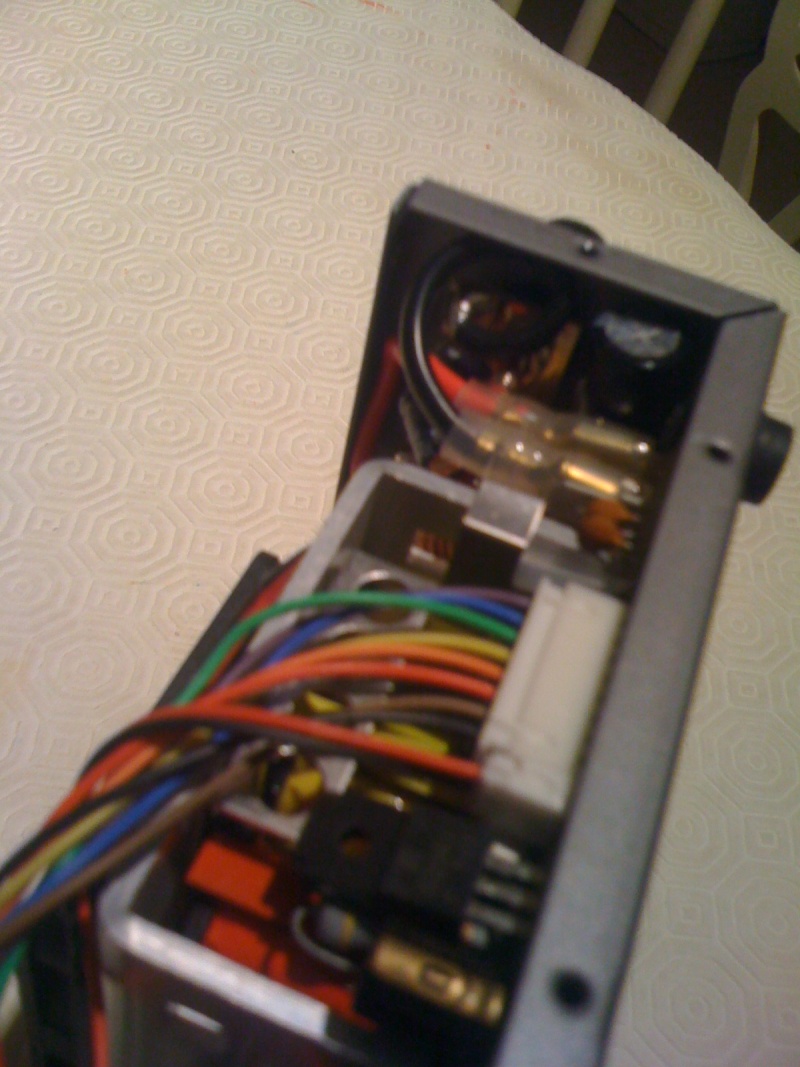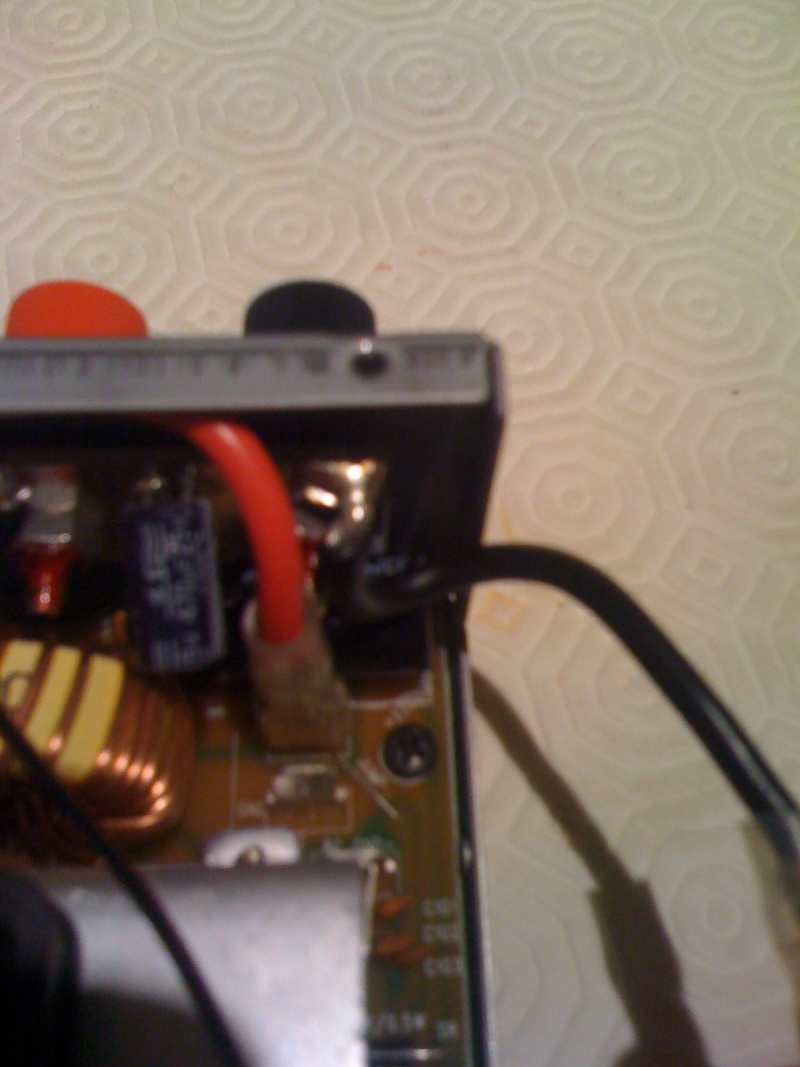 2W0PWR

Admin





Call Sign

: 2W0PWR


Other Call Signs

: MW3VSG, M3VSG


Locator

: IO83KD


DXCC Entity

: Wales


VHF / UHF Rig

: Yaesu FT-7900 Motorola DM4600 DMR


HandHeld

: Wouxun / Motorola DP-3400


Preferred Bands

: 80 / 20 / VHF / UHF / D-Star / DMR


Special Event Calls

: GB2RFS


Location

: North Wales


Registration date

: 2007-10-03


Number of posts

: 1225


Points

: 741


Reputation

: 57



All sorted now and powering 400w worth of HF linear, running cool as a cucumber with a large silent fan outside on the top casing.
Cheers 2WOPWR, if yours starts squeeling like a pig its an easy mod to do.
73s
Phil

26WF183

New Member





Location

: Northumberland


Registration date

: 2010-04-15


Number of posts

: 10


Points

: 18


Reputation

: 0



Well done Phil, Glad it's working and glad I could help.

Mine does make quite a noise but think it's due to the restriction of air getting into the unit.

73 Dave

2W0PWR

Admin





Call Sign

: 2W0PWR


Other Call Signs

: MW3VSG, M3VSG


Locator

: IO83KD


DXCC Entity

: Wales


VHF / UHF Rig

: Yaesu FT-7900 Motorola DM4600 DMR


HandHeld

: Wouxun / Motorola DP-3400


Preferred Bands

: 80 / 20 / VHF / UHF / D-Star / DMR


Special Event Calls

: GB2RFS


Location

: North Wales


Registration date

: 2007-10-03


Number of posts

: 1225


Points

: 741


Reputation

: 57



I did replace the little fan on the internal heatsink like for like with a new one from cpc, it was silent when first installed but after about three weeks switched on constant as a bench test it started going the same way as the origonal, I dont think the little fans can take the direct intense heat from the heatsink? the big fan Ive put on top of the case externaly (small one totaly removed) with a large circular hole cut into the top can't be heard at all (you wouldnt know it was on) even when its speeding up under heavy load.
Phil

26WF183

New Member





Location

: Northumberland


Registration date

: 2010-04-15


Number of posts

: 10


Points

: 18


Reputation

: 0




---
Permissions in this forum:
You
cannot
reply to topics in this forum